Notebook Vol.5, No.1, 2011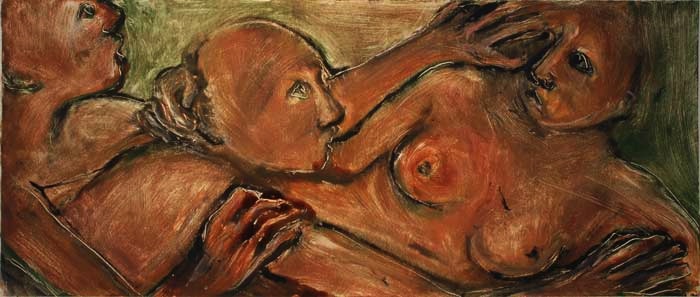 We know ourselves as part and as crowd, in an unknown that does not terrify.
We cry our cry of poetry. Our boats are open, and we sail them for everyone.

Éduoard Glissant, French-Caribbean poet, novelist and philosopher (1928-2011)
The Poetics of Relation.
Throughout this issue, you will find the polymorphous art works of artist Claire Weissman Wilks. Well known to art lovers, collectors, and critics in Mexico, Italy, Israel, and New York, her work deserves to be more widely acclaimed in her native Canada. Her stunning monoprints and sculptural bottle works convey a haunting resonance that stays with the viewer long after the encounter. Take time to linger on her work in the
Studio
Gallery
and experience the enduring afterimage of her work.
In
Poetry
, I am delighted to publish three sublime new poems by the Griffin Poetry Prize winner, Canadian poet A.F. Moritz. I'm also pleased to introduce our readers to new poetry by Chad Campbell, Trina Gaynon, Stevie Howell, W.F. Lantry, Joanna Lilley, Walter Preston, Michael Redhill, Jeannine Savard, Rosemary Starace and Cody Todd.
The
Translation
section in this issue features translations by Evan Jones, of poems by Raoul Schrott, translated from Austrian German to English. Jones does an excellent job at conveying the sensibility of Schrott's rich linguistic play and subtle poetic structures. "A good poem,' says Schrott in an interview with Urs Engeler, "succeeds in forging a link between emotion and intellect, the irrational and the rational, the humane and the inhumane. It forges, if all goes well, the disparate into unity. And this forging is by definition ideal, symbolic, irreal, metaphysical."
In our
Reviews
section, Jennifer Duncan provides an insightful and critical reading of Margo Berdeshevsky's
Beautiful Soon Enough
and Lucas Jacob takes a close critical look at
The Trials of Edgar Poe and Other Poems
by Ned Balbo. Christopher Doda reviews
update
, the new, highly entertaining collaboration by Bill Kennedy and Darren Wershler.
Fiction
features the short story, "Lost Dogs," by Lisa Foad. Her unique stylings won a ReLit Award (2010) for her first book of stories,
The Night is a Mouth
.
Audio and Video
: I'm especially excited to introduce the conceptual, avant garde video shorts of Michael Meyers, who teaches at the Chicago School of Design. His video "The Interrogation of Marie Antoinette," and his two audio pieces, "The Sentimental Gendarme" and "Seeing China," surprised me with their witty and experimental nature.
Studio
is proud to present this new media voice.
Finally, our
Creative Non Fiction Contest
is open for entries.
See the
Contest
page for details.
Rishma Dunlop
Editor,
Studio